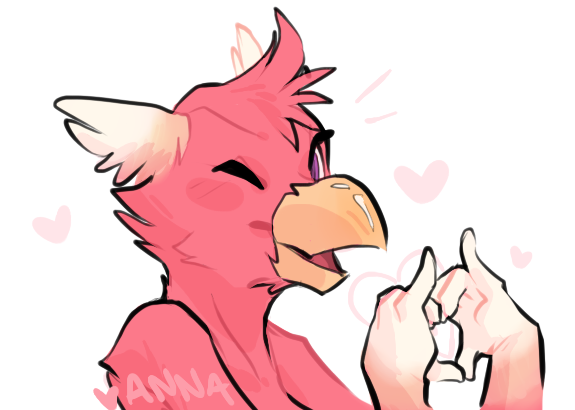 Anna Harren's Anthology of Lewdness
Hi! I write porn! Incredibly lewd porn, featuring plenty of transformation into various things and substances, loads of hypnosis and mind control, and a generous topping of tons of other fetishes!
My name is Anna Harren, but I usually go by oannablue in lewd circles. I'm a disabled trans girl, who is also a cute pink bird whenever possible. Because of that, LGBTQ-etc stuff usually just ends up slipping into my work!
A large amount of the stories in this anthology are already available as pdfs on my FurAffinity, but this is the only place you're going to find such a polished collection of it available in mobi, epub, and pdf!
Note that a few of the fetishes included in this may be uncomfortable to some. Themes of permanence, mind control, gender transformation, an dub-con are common. I take the point of view that all of these things are fine as long as they remain in fiction.
The stories contained in this anthology are:
The Doll Exposé: Living latex TF into Trixie
Refill Required: A window into the life of a Drone
Realistic Doll: The world being rewritten around you until you're a sex doll
A Gift: Bondage, hypnosis, and latex TF
Tiberius.md: Dominant latex TF
You Suck: Experiencing an awkward hypnotic trigger
The Golden Statues: The point of view of a TF trigger
Changes Within: A story that affects you
Latex Mistress: Evil living latex puddles
Backfired: A domme turned bimbo
Squeakymilk: Subtle hypnosis, cow pooltoy TF, and milking
One of Many: Cloning and inanimate TF
Bubblegum: A TF quite tasty
Need: Your life as a bimbo
Bar Girl: Some very unusual bodily fluids
Dakimakura: TF into a body pillow
Khloe's Lovely Phallic Fate: Cock TF and cuddling
Fuck-Bitch: High-tech hypnotic fursuits
Egg-laying: Pretty self-descriptive!
Debt Collection: Drone TF from the inside out
Headphones: Mind Rewriting
Like Putty in Her Hands: TGTF
Gummed up: Sticky cum
Ghosts and Girlybois: Sexuality-play and ghostfucks
Yes: Mind control collars
Toyful: Orifices made more fuckable
Sleep Fuck: Unconscious sex
Sex Doll's Glass Prison: Encasement and latex TF
Synthetic Enthusiast: Sex Doll TF
Latex Panda: Second-person latex TF
Birthday Cake: Tentacles and forcefeeding
33k words in total!
Purchase
In order to download this book you must purchase it at or above the minimum price of $6 USD. You will get access to the following files:
anthology-of-lewd.epub
101 kB
anthology-of-lewd.mobi
126 kB
anthology-of-lewd.pdf
246 kB